Garment Spotlight: The Workshirt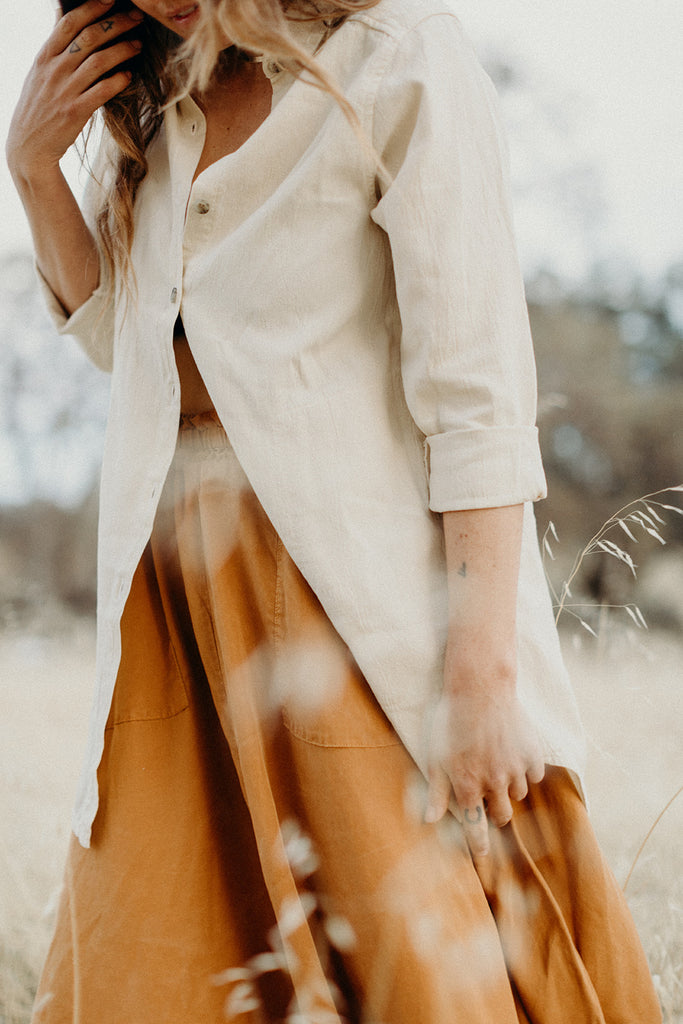 What can we say about the Workshirt?
Or should we say workshirt meets dress/meets cardigan/meets beach coverup!? We absolutely love how versatile and seasonless this little number is. This rich cotton fabric is light enough for summer beach days, yet so sturdy that it only gets better with time. During warmer months you can style it as a simple layering piece over a cami and your favorite vintage Levis, or even bring it to the river and throw it over your teeny weeny polka dot bikini. During the colder seasons you can button this baby up and add tights for a cute little dress moment.
The silhouette is loose yet structured, offering a hint of utility. We love it's deep pockets and the fact that you truly don't have to wash it much - offering a lovely worn-in look with each wear. In fact, we love it so much that we have been recutting it for years, constantly experimenting with new colorways. If you haven't tried out or Workshirt yet, this is a sign to roll up your sleeves and give it a whirl, we promise you won't be disappointed.
Here is what people have to say about the Workshirt:
"This shirt is THE shirt I have been waiting for all my life and by far my most favorite Curator item. I haven't taken it off since I got in it the mail. The material is not what I expected-- it's better! It's flowy, comfortable, and sturdy. It looks great on everything and is seasonally versatile. I've been wearing it over turtlenecks and leggings or painter pants. Worth every penny."
"I have lost count of the number of Curator items I have and this is among my favorites. It's utilitarian, beautifully made, and a great shape. I have used it as a light jacket primarily and always gets compliments."
"This is my third workshirt, and I have zero regrets. They go with everything, the fabric is strong but soft, and the colorways are fantastic."